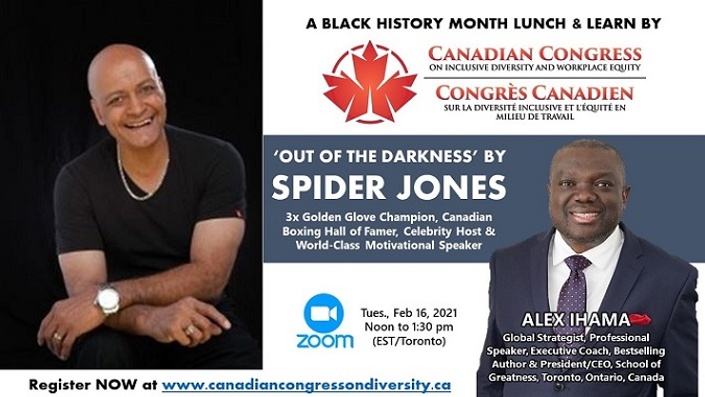 Black History Month Empowerment Sessions (Alex Ihama & Spider Jones)
Celebrating Stories of Resilience and Tenacity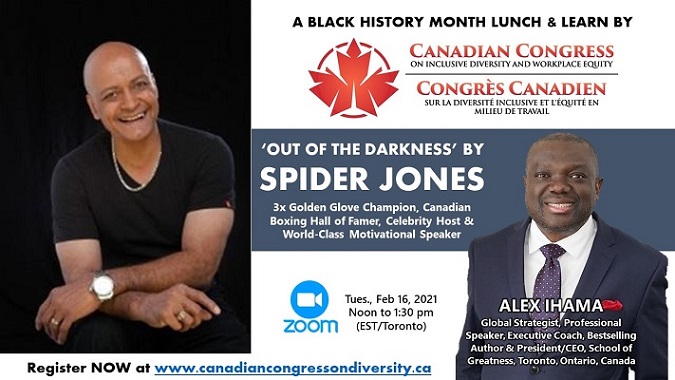 Imagine being born in 1946 into poverty, violence and bigotry, a year after the Second World War that tore the world into pieces and just before the era of the Civil Rights Movement.
Against all odds, Spider rose from the gang-infested treacherous streets of Detroit to become one of the most inspiring speakers of our time.
At age six, Spider's eighteen-month-old, brother Dennis, suddenly died of pneumonia, leaving him traumatized.
After failing grade three twice, he was diagnosed with a learning disability and transferred to a remedial class before dropping out of school at the age of fifteen.
Shortly after he joined a vicious Detroit, a street gang called the Motor City Mobsters and within six years had risen to the top as the gang's War Lord.
His larcenous ways eventually cost him his freedom, but something even much more precious was lost.
During those turbulent years, he lost two first cousins, both shot to death during gang confrontations.
Another close relative was critically stabbed during a brawl and hovered at death's edge for weeks.
A few years later, Spider's younger brother was wounded by police in an attempted bank robbery.
Today, Spider Jones is an award-winning Canadian journalist, author, and former amateur boxer, and a former three-time Golden Glove Champion who was inducted into the Canadian Boxing Hall of Fame in 1996.
As a sparring partner for such boxing legends as George Chuvalo and former World Heavyweight Champion Jimmy Ellis, and a member of Muhammad Ali's training camp back in the days when 'The Greatest' fought Chuvalo.
As a media personality, he has interviewed celebrities like Muhammad Ali, James Brown, Ringo Starr, Mark Wahlberg, Jesse Jackson, Russell Crowe, Mike Tyson, Wayne Gretzky, Smokey Robinson, Sugar Ray Leonard, LL Cool J, Jamie Foxx, Michael Jordon, Bishop Benjamin Tutu, Roy Jones, Kris Kristofferson, etc.
How did Spider Jones become a boxing champion and celebrity host who inspires millions to conquer their challenges & ongoing social injustice to maximize their potential?
Would you like to learn some of the inhumane challenges that notable black men and women went through over the last 500 years to achieve success against all odds?
Would you like to Develop the Extraordinary Tenacity & Resilience People of African Descent have Used to Achieve Success for 500 Years Despite the Ongoing Social Injustice?
In this corporate workshop, you will be learning:
How to appreciate and maximize People of African Descent
The ongoing fight and plight of People of African Descent
The underlying factors why Black Lives Matter
The professional & business potentials of people of African Descent
How to attract and retain People of African Descent
YOU CAN BOOK A CORPORATE SESSION FOR YOUR ORGANIZATION OR REGISTER YOURSELVES FOR THIS AND INVITE OTHERS TO LEARN FOR FREE
Your Instructor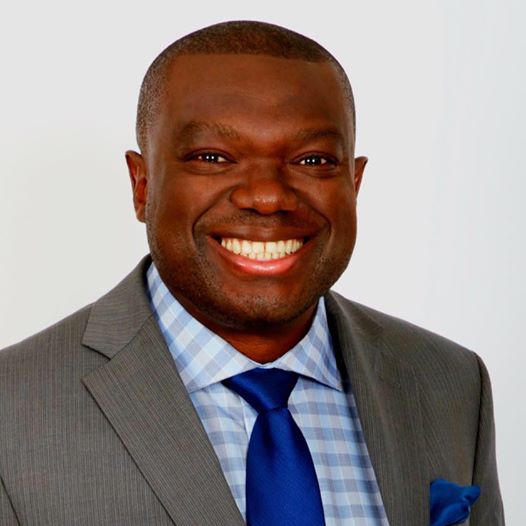 Considered as one of the most dynamic and engaging speakers in the world today because of his stage power and uncommon ability to communicate complex topics with brevity and humour, Alex Ihama is a Global Strategist and Executive Coach to CEOs, senators, bishops, TV personalities, Olympians, etc.
He has certified about a hundred professional coaches and speakers all over the world on his unique approach to an innate transformation which has helped people and organizations to save and make millions of dollars through a paradigm shift, the revolutionary renewal of the minds and development of leadership capabilities.
With two decades of corporate experience working with Fortune 500 companies to execute many projects valued at over a billion US dollars, Alex is an astute businessman, a community advocate and the author of over 100 transformational courses and certification programs like The Psychology of Sales & Marketing & and bestselling books like Welcome to Greatness, The Mystique of Leadership & The Leadership Manifesto.
While he is still involved in the transformation of lives and organizations, he is now predominantly engaged by governments and global agencies worldwide for national transformation agendas and the transformation of business, community, religious and political leaders.
He is the President/CEO of four global organizations, including the International School of Greatness and The Corporate University, headquartered in Toronto, Canada.
For more information, visit www.TheCorporateUniversity.ca and www.SchoolofGreatness.ca or email [email protected]. You may also call +1-416-902-6672 or contact Alex Ihama directly through his email on [email protected] or find him on most of the social media outlets like LinkedIn, Facebook & YouTube.
Course Curriculum
BLACK HISTORY MONTH EMPOWERMENT SESSIONS
Available in days
days after you enroll
OTHER DIVERSITY DEVELOPMENT PROGRAMS
Available in days
days after you enroll