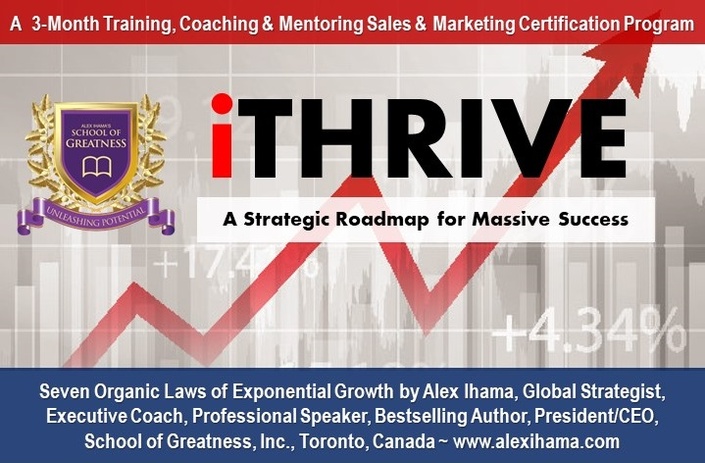 iTHRIVE - A Strategic Approach to Sales & Strategic Marketing
The Seven Organic Laws of Exponential Growth for Leadership & Business Success
Watch Promo
For centuries, the art of selling has been approached from one perspective, and one perspective only.
That is, to convince or even trick people into buying a product or service.

It no longer works that way. In fact, it stopped working that way decades ago due to the rise of technology and globalization.
But, many people in sales and marketing are oblivious to this fact.

Are you?

After having trained thousands of people on sales and marketing globally for about two decades, I have realized that most people are still quite unaware of the associated complexity.

You may have the finest or even the most required product and service on earth, but without a strategic approach towards sales and marketing, you won't maximize your opportunities.

If you don't change your mindset from convincing to influencing, you would only sell yourself short.

Hence, I developed this unique program, titled:
The Psychology of Sales and Marketing: Seven Organic Laws of Exponential Growth
Some participants and even sales experts refer to it as "a paradigm shift", "a revolutionary move in the sales world" and "intellectually stimulating".

The program combines the learning objectives on business intelligence, strategic management, operations and client relationship management to expand your mindset about the process of securing sales.
SELF-ASSESSMENT QUESTIONS
Would you like to thrive through the journey of entrepreneurship with purpose & passion?
Do you have a dream, desire, purpose, vision that you wish to achieve and expand?
Do you require coaching accountability to ensure the required momentum for success?
Would you like to conquer negative mindset & psychological challenges with inspiration, strategy and spiritual empowerment?
Would you like to translate your knowledge, impact and influence into profitable growth?
Would you like to network and mastermind with those who are as passionate as you?
Do you require a comprehensive strategy, road map and a guaranteed execution plan?
If you have answered YES to one or more of these questions, iTHRIVE is for YOU!!

iTHRIVE is intense training, coaching and mentoring program on the Psychology of Sales and Marketing, which is bound to empower you with a strategic approach to sales and marketing.
It is a framework that leverages how people think and how things work to maximize sales opportunities and achieve exponential growth of large, midsize and small businesses
It connects relationship management to business intelligence, and marketing strategy to competitive intelligence, while introducing you to a strategic tapestry of seven organic laws of exponential growth that must work together, not only to increase sales revenue but also to leverage a client relationship management strategy to become the primary contact for every sale opportunity with your leads and clients.
WHAT YOU WILL LEARN
It will empower you with a strategic approach to sales & marketing and teach you how to leverage brand equity to generate profitable up-selling & cross-selling opportunities.
It will offer you a thorough psychological framework that leverages how people think and how things work to maximize sales opportunities, achieve customer service excellence and achieve exponential growth.
It will teach you how to leverage the activities of relationship management and business intelligence to increase customer loyalty and that of strategic marketing and competitive intelligence to increase sales revenue.
It will introduce you to a strategic tapestry of seven organic laws of exponential growth that covers and connects every aspect of sales and marketing with the strategic objectives to break new grounds and generate new sales.
It will equip you with psychological and natural laws and how you can use them to inspire your clients and leads, influence the outcomes of sales opportunities and empower yourself for daunting sales negotiations.
You will learn client relationship management tools and techniques that can influence your clients to become an advocate of referrals for your business while raving that you are the best contact for sales opportunities.
You will be inspired to become a leader in sales and marketing, whether you hold a position of authority or not while generating the motivation to confront your doubts, fears and ineffective activities in the sales process.
A HONOURABLE BENEFICIARY OF iTHRIVE
Over seven months, the Jamaican baking company, Honey Bun, worked with a foreign consultant on reshaping its organizational and other structures. During the past year, the company also added a new warehousing capacity.
The results were immediate. For the year ending September 2019,Honey Bun grew revenue by 17 percent and profit by 72 percent.
CEO, Michelle Chong, also told the Financial Gleaner that the company co-owned with her husband Herbert Chong is now more seriously focused on succession planning.
Sons, Daniel Chong and Dustin Chong, are being groomed to take on more duties – one oversees operations and the other distribution.
She says the training invested in both is a prelude to taking the baking company to another level. So, too, was the consultancy with Canada-based management consultant, Alex Ihama.
Between September 2018 and March 2019, the chief executive said, Honey Bun spent US $40,000 on leadership training, changes to organizational culture, as well as cost-saving measures and strategy.
"They had a lot of training and one-on-one coaching, and road maps to achieve certain goals. They were very clear on the objectives and the coaching was very effective," Chong told the Financial Gleaner.
"Part of the consultation and strategic implementation was to have a massive cost-saving exercise. We, therefore, managed down our cost seven as we increased our capacity," she said.
For the full article, click here: http://jamaica-gleaner.com/article/business/20191206/honey-bun-profits-surge-after-consultancy-ceo-begins-succession-planning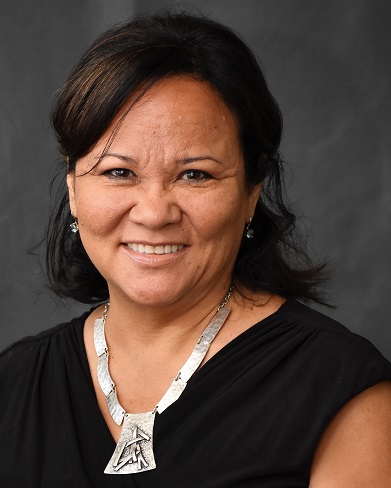 HERE ARE WHAT SENIOR EXECUTIVES ARE SAYING ABOUT OUR PROGRAM
"Alex is a change agent who touches each person with whom he interacts with his powerful and practical transformation and motivational message and training techniques. Thousands of successful business leaders in Jamaica while attending the Jamaica Stock Exchange's premier conference on investment and the capital markets have reacted positively to his life-changing leadership sessions and in-house training, which have enhanced corporate productivity and growth. We have certainly benefited, and we thank Alex and the Alex Ihama School of Greatness. The JSE made a Great Choice, and so can you."
– MARLENE STREET-FORREST, MANAGING DIRECTOR, JAMAICA STOCK EXCHANGE, KINGSTON, JAMAICA
"I was struck by his presence, enthusiasm and the electricity he brought to the room. He walks and manages a fine line of being inspirational, provocative, humourous, passionate and purely entertaining. His experiences and wisdom are evident in his remarks. He compliments you and challenges you in the same sentence. He takes you on a journey of emotions which invokes laughter, deep thinking, reflection, and pride, and leaves you wanting more."
– MARK CUMMINGS, PRESIDENT/CEO, SCOTIABANK LIFE INSURANCE COMPANY, TORONTO, CANADA
"I had the pleasure of working with Alex for our annual NBC convention, and have seen firsthand his commitment to excellence and professionalism in all that he does. Alex gives all that he has - he is full of life, he bursts with enthusiasm, he is passionate and truly engaging. You cannot come into his presence without being touched, moved to action or to change".
– JO-ANN CARDINAL, BUSINESS DEVELOPMENT MANAGER, NATIONAL BANK OF CANADA, MONTREAL, CANADA
"When you talk about leading by example and leadership in action, I watched and listened to Alex – you saw that he is really into developing people. Plus, I love how he doesn't sugar coat his messages and shakes your thinking. I still can't explain to my colleagues what it was and how it was because it was just such a fresh, impactful experience. It doesn't fit into a box – you know you were supposed to be at a "formal" event at the Pegasus Hotel, but it felt like we were all having one big veranda conversation. It came at the right time in my life."
– PATRICIA PETERS, FACILITATOR, WHOLE LIFE COLLEGE, KINGSTON, JAMAICA
"Alex Ihama is powerful and provides a huge WOW factor in everything he does! Unlike traditional ones, his training programs provide a new learning experience that stretches you in ways you didn't know you could grow. He ensures that what you learn becomes an extended part of who you are after the program."
– MICHELLE CHONG, CEO, HONEY BUN (1982) LIMITED, KINGSTON, JAMAICA
"You always know when you spot a good thing. In Alex's case, I spotted a great thing. I also admire his desire and dedication to helping people uncover and achieve their own greatness. He is an incredibly motivating speaker who delivers solid and actionable advice. I have no doubt that Alex would be an awesome addition to any event, organization or project."
– KATE MICHEL, LEADERSHIP EXPERT ON NEURO-LINGUISTIC PROGRAMMING, MICHIGAN, UNITED STATES OF AMERICA
"Alex Ihama's speech to the audience could not have been a more poignant reminder that success is a journey, not a destination. I felt uplifted by Alex's plea that we must keep moving forward, and we must reach greater heights. Few speakers are imbued with an ability to discharge a seemingly weighty message in earnest while, at the same time, delivering levity and laughter with precision.
– MARLON REID, VICE PRESIDENT, TORONTO DOMINION BANK, TORONTO, CANADA
If you wish to engage Alex Ihama as a speaker for your corporate event or executive coach for your leadership team, or perhaps, develop a corporate strategy that is bound to reduce your cost by at least 25% while increasing by over 25%, email to [email protected]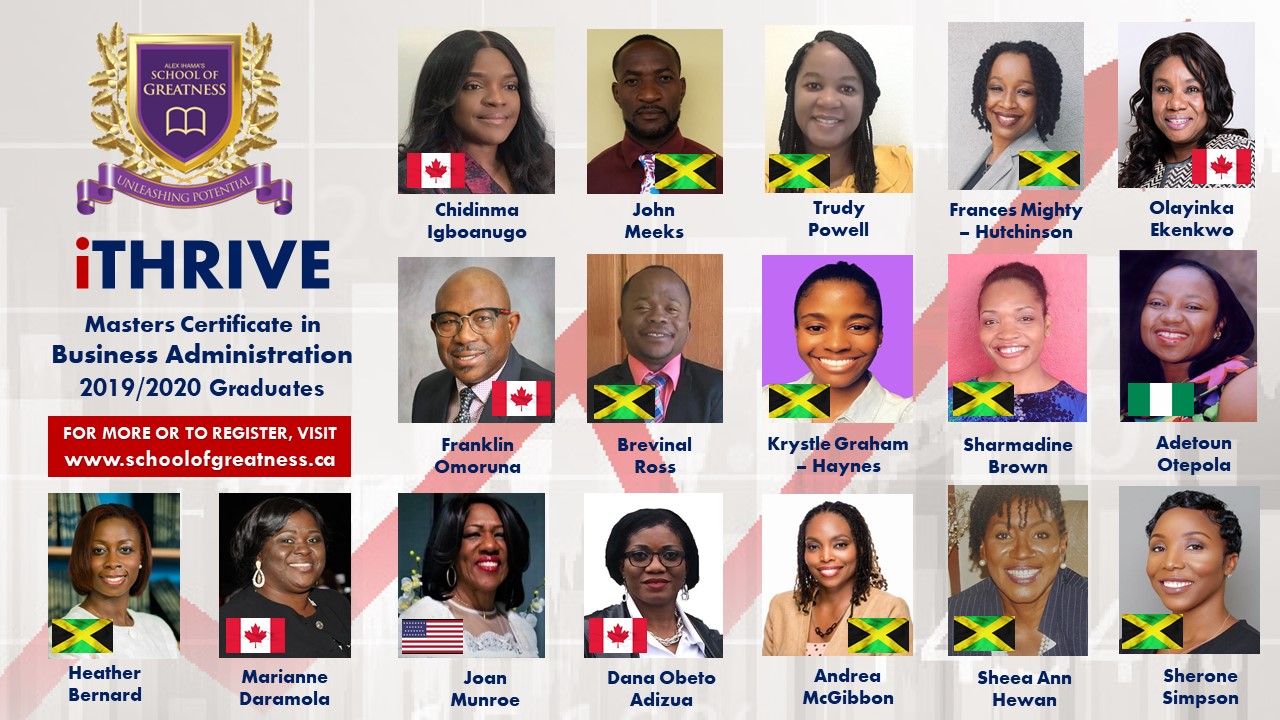 Your Instructor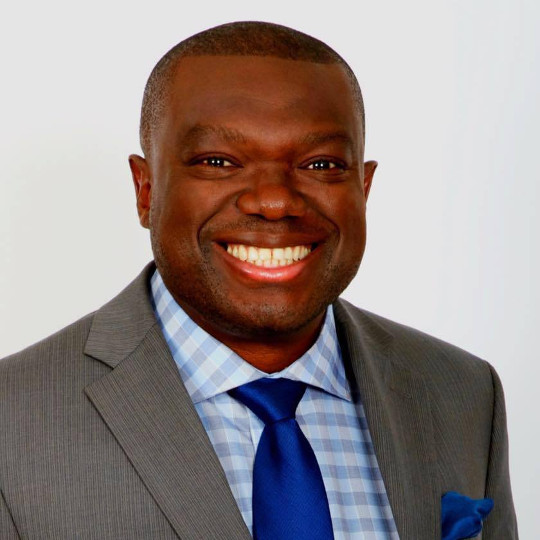 Many people consider Alex Ihama as one of the most dynamic and engaging speakers in the world today.
He is regularly sought after by executives, pastors and politicians whose desire goes beyond the transformation of their people and organizations to that of their nations.
An executive coach, professional speaker, bestselling author and global strategist who has enabled many organizations to save and make millions of dollars, he has taken his revolutionary messages on leadership, business, religion, politics and national transformation agenda across many continents.
He regularly speaks at highly-profiled conferences around the world with other renowned global speakers, captains of industries and even heads of states – from Canada to Cuba, the UK to the USA, Germany to Malawi, Switzerland to South Africa, Belgium to the Bahamas, Nigeria to the Netherlands, and nations like the Dominican Republic, Malawi, Kenya, Ghana, France and Jamaica.
He is a master coach to over 100 other coaches worldwide and effective in renewing the minds of professional athletes like Olympians, media personalities, corporate executives, judges, senators, entrepreneurs and other professionals.
With two decades worth of corporate experience in three of Canada's largest banks, Alex Ihama is an astute businessman, bestselling author of over 100 transformational online programs and bestselling books like Welcome to Greatness and The Mystique of Leadership.
He is also the President/CEO of the School of Greatness, based in Toronto, Canada, which is a unique institution of inspiration that has ignited the spirit of leadership in over a million people in 45 nations.
He is also the Managing Director of a Corporate University, which offers a variety of strategic courses to enhance the culture of organizations all over the world by empowering their executives and employees for peak performance at work and in life.
For more information, visit www.schoolofgreatnessinc.com or email [email protected].
Course Curriculum
Introduction to McBA (iTHRIVE)
Available in days
days after you enroll
McBA Module 1 - The Law of Branding
Available in days
days after you enroll
McBA Module 2 - The Law of Promotion
Available in days
days after you enroll
Frequently Asked Questions
When does the course start and finish?
While there are some scheduled seasons for the course, you can start the online component of it any time - at your pace, place and prerogative! It is a completely self-paced online course - you decide when you start and when you finish.
Will I get a certificate upon my successful completion of the course?
Yes, you will. Everyone who completes the microlearning videos and quizzes will obtain a Sales and Marketing certificate from our prestigious School of Greatness, Inc, Toronto, Ontario, Canada.
What is the pass mark of the quizzes and can I take them again if I fall short of the pass mark?
The pass mark for each module is 80%, and you have two trials if you fall short the first time.
Can I get a refund if not satisfied with the program?
While the surveys of our students often indicate they are delighted, you have the option of a refund after the first module only. We are so confident in the impact of this program that the first module is free if you so desire.
What are some of the unique benefits of this program?
1. The depth of our contents is beyond mere thought-provoking to being revolutionary, thereby instigating the renewal of people's minds and inspiration to their souls. 2. We base our contents on psychological, philosophical, spiritual and physiological research, thereby, intellectually stimulating, spiritually therapeutic & economically empowering. 3. The outcome of our programs is remarkable and measurable, thereby enabling targets in sales revenue, leadership assessment and customer satisfaction to be exceeded. 4. We use technology to offer a three-months follow-up coaching and mentoring program, thereby reinforcing and inspiring participants to sustain their transformation. 5. Our programs are facilitated live and in online microlearning sessions with quizzes and assignments, thereby granting participants opportunities to become certified in the program. 6. The skills learned in our programs are transferrable between roles and responsibilities as well in work and life, thereby maximizing the benefits and outcomes for life. 7. The intensity of our programs and the propensity of our delivery challenges participants holistically, thereby empowering them physically, mentally, emotionally and spiritually.